My Old Place in Carleton Place
Sweet White Clover (Northdays)
The last building on the top right is the Mississippi Canoe Club, next to Spar Aerospace. I loved the meadow next to where I used to live-it was full of scented sweet white clover, chicory, roseate clover flowers, and butterflies attracted to the milkweed, which I have also sketched.The area is all kept mowed now, host to weekend hot air balloonists, a wonderful sight.
Painting is acrylic on board, 30"x14".artist, Susan Mary Risk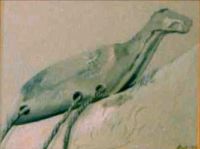 For more work in the same genre, click the image of Canadian indigenous sculpture, a detail from an antique canoe, or click here:
CANOE MUSEUM SKETCHES
. The sculpture is put to good purpose, on the original canoe.
Back
---
LINKS BELOW BRING PAGES UP IN SEPARATE WINDOW
copyright : Northdays Image 2001 - 2011 by Susan Mary Risk