Above- a birchbark canoe from Madawaki - on show one year in our townhall.
Click on either canoe painting to see a larger version and read a little.
To the right - an acrylic painting of an old canoe on the banks of the Mississippi River,
entitled " Sweet White Clover" .
I used to live next to this part of the river, and this is actually what it looked like, nine years ago, in 1995.
In far right distance, the Carleton Place Canoe Clubs' roof may be seen, where it is beautifully situated
on a sandy public beach in Riverside Park, Carleton Place .
Carleton Place Canoe Club
holds regattas and races all summer.There is a street celebration called 'Mississippi Riverboat Daze.' The whole town loves the river. My art reflects this.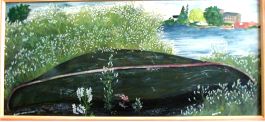 To the left, I salvaged part of an image of one of my favourite paintings, from a slide which got faded, somehow (where the top is yellowed). My rose painting, from a "Punk Valentine" series, was made to signify love deep in ones heart, soul, and blood. I traded this large canvas to MacPherson Galleries, in Almonte,ON.