Boating Carleton Place
Birchcanoe Northdays Image
These two canoes were two of fifty exciting canoes which comprised a travelling canoe show visiting our town one summer.Exhibits are courtesy of The Canoe Museum in Peterborough,Ontario.The canoe on the top is a birch bark canoe made in Madawaki.The one below is canvas.
Painting is acrylic on board with pine pitch glaze,by Sue Risk (Sue Risk,Illustration)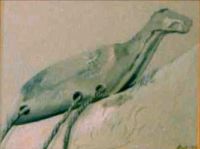 For more work in the same genre, click the image of Canadian indigenous sculpture, a detail from an antique canoe, or click here:
CANOE MUSEUM SKETCHES
. The sculpture is put to good purpose, on the original canoe.
Back
---
LINKS BELOW BRING PAGES UP IN SEPARATE WINDOW
copyright : Northdays Image 2001 - 2005 by Susan Mary Risk